Select your shoe size
All sizes for Shoebidoo High Heels are in women EU size. In general all shoes are true to size and follow the Italian/European shoe size system. Use the table below to determine your EU size. In the table you find the reference sizing for each EU size. This shows what "true to size" means.  



Please note: this chart is just to help you orient yourself. Follow the measurements if they are provided on the product page of our products. If you have any questions, please contact us before ordering. 
You can download your own measurement sheet here (printable PDF format). You can also download the reference size table as PDF (printable PDF format 900Kb). 
How to measure for boots and high heels? 
Please find the most important measurements for boots and high heels in the picture below. Do you need help to measure your own feet and legs? Please find help and more information about customizing our boots here: measure your feet and legs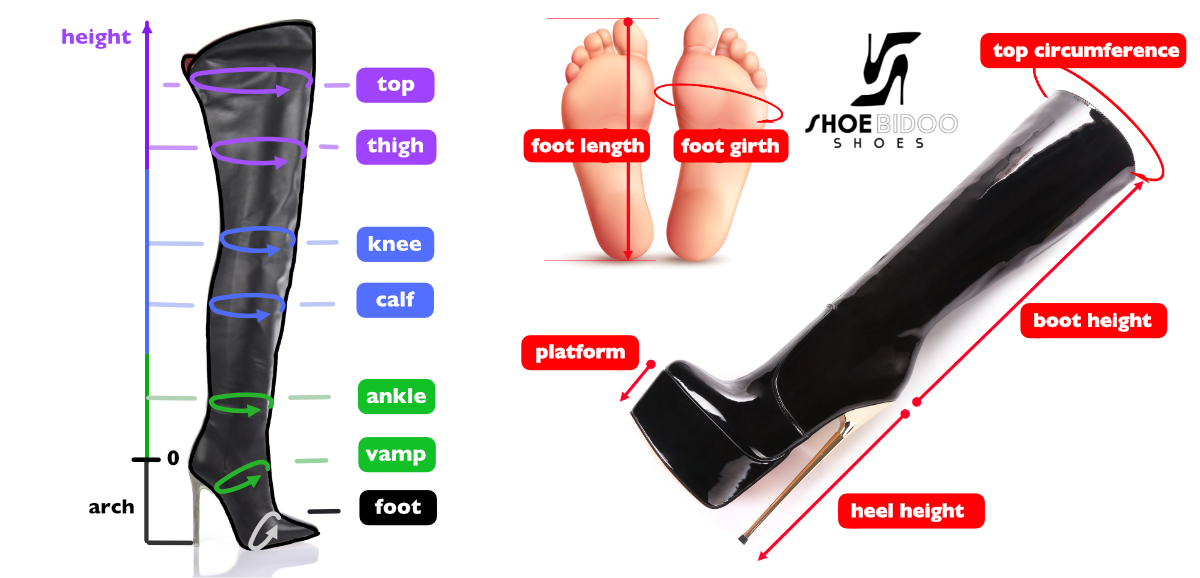 Are you in doubt or do you have more questions? 
When you are still in doubt about your sizing, please take measurements of your feet and leg yourself. Goto the page measure your feet and legs and use above table to determine your EU size.
Contact us for advice: [email protected]. When contacting us, please provide us with your regular shoe size in EU/UK or US sizing (like the Gucci's or Louboutin heels you normally wear), tell us what model you like to buy and provide us with your measurements of your feet and leg. We can then give you an advice what size to choose for the specific model. 
Giaro size tables for the specific models 
Some Giaro models have specific measurements. Most measurements can also be found on the detailed product page for each shoe model: