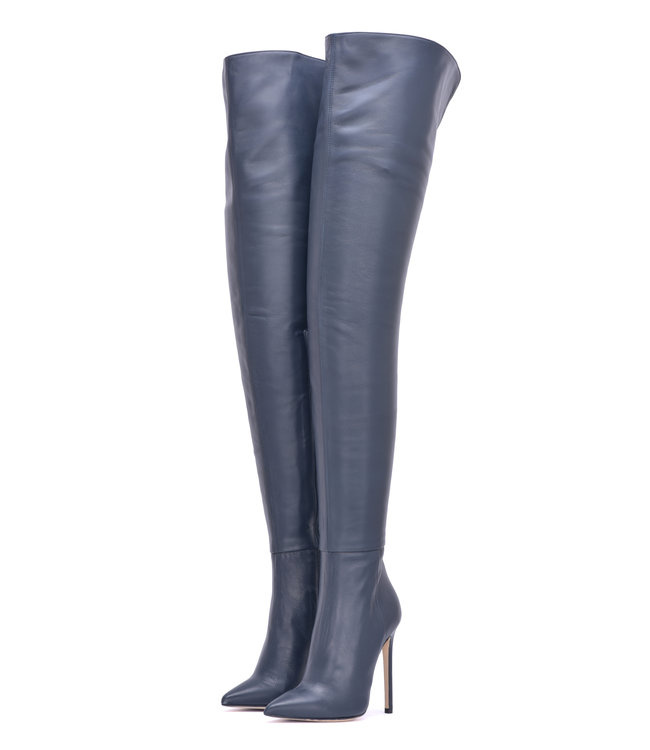 All our Italian boots and high heels can be custom made or made to order. This is useful if our standard size does not fit or to order a standard model in a specific color.
Choose measurements and colours
Our Italian boots are made in the Sanctum factory in Italy. The factory can produce the models we have available with: 
1) custom heights and circumference, 
2) an individual circumference for ankle, calf and thigh,
3) in EU sizes 34 to 47, 
4) in any of the 128 colours in nappa leather, patent leather or suede. 
Please note: only Sanctum Shoes models can be custom made. It is not possible to have our Giaro or other brands custom made.
Take your own measurements
Please take your measurements first and see what customization you may need. Then send us the filled in measurement card and let's discuss possibilities.  See more info here: https://www.shoebidooshoes.com/en/service/measure-your-feet/
You can also visit the Sanctum Shoes website to see samples of custom made boots for other customers, or see some options for boots and heels that can be custom made. See more here: www.sanctumshoes.com - custom-boots-lookbook
"Made to measure" or "Made to order"
You can also read more about the difference between "custom made" (made-to-measure, the boots are fully personalized for your measurements) or "made to order" (the boots follow standard sizing and you can choose any material and colour combination). See here: About custom orders: mtm versus mto
Photo: Made to order VESTA crotch high boots in color "BLUETTE" (dark blue).