High Italian knee boots GAIA with stiletto heels in genuine patent leather
Italian designer knee boots of the finest patent leather from Italy. Model GAIA. Beautiful elegant silver metal high heels, and nice pointy noses. Leather lining. Sleek modern design makes this the ideal boot over tight jeans or leggings.
Price:
€335,00
€299,00
Incl. 21% VAT (
€247,11
for non EU customers at checkout)
Only 2 pairs in stock for size 40
Important:
14 days to return - discounted return labels for EU
Fast worldwide shipping PostNL, DHL or UPS
Secure payment - pay later with Klarna
The ultimate fashion meets fetish patent knee boots. Super high heels in silver metal. Long fetish boots with the comfort and quality of real leather designer shoes from Italy.
The boots have a striking rubber anti-slip inlay in the sole to facilitate walking while not slipping on the leather sole.
The heels are 12.5 to 15 centimeters high, no platform, depending on the size.
These GAIA boots are our most sexy single sole boots. Please keep in mind: the pointy toes and more than 12cm heels require some experience in wearing high heels. For extra comfort a padding in the inner sole can be added to relief the pressure on the toes in the pointy toe box. 
All materials are natural, genuine leather and patent. Made in Italy. The soft Italian leather used for the top lining ensures an excellent fit; the boot adapts to the shape of your feet, but please note that the patent leather is less forgiving than the regular leather boots. 
The dimensions are Italian. Choose your normal size in EU shoe size.
Heel and size info
---

Sizing advice - what is the fit of these heels

Sizing

True to size, choose your regular EU size. (Italian fit with pointy nose, patent leather)

---

---

Heel-o-meter - how high are the heels?

Heel Height

12

cm arch (EU 38)

---

Wearing

Heel experts only. Difficult to walk. (higher heel)

---
Specifications
---

Product

BRAND:

Sanctum

ARTICLE CODE:

BV1003-GAIA-KNEE-4817-BS
---

Characteristics

Model :

Sanctum Italian

Available sizes :

36-40 EU

Heel height :

9.5 or 10.5 cm (3.5 to 4 inch)

---
Sizing information:
The size advice for this model is: Italian - True to size - a bit narrow in the foot .
Measurements: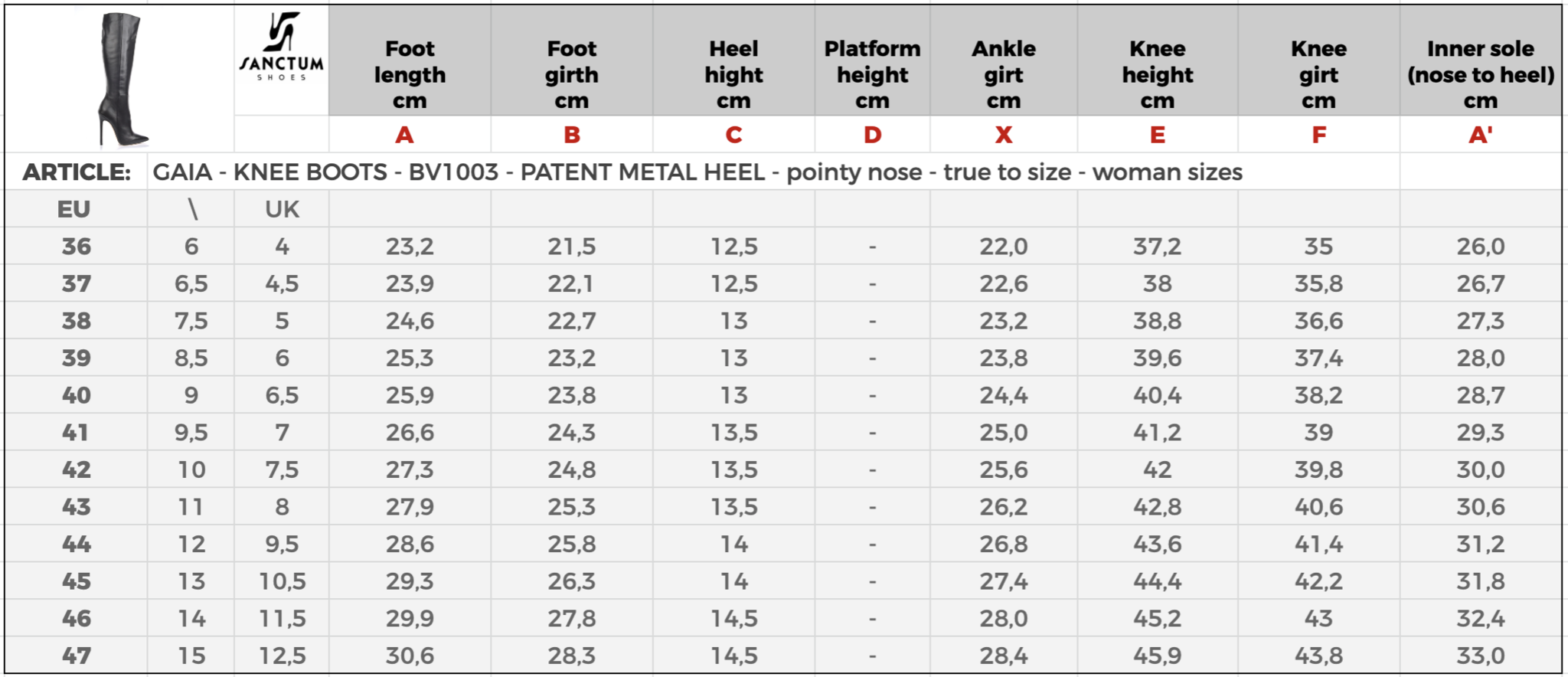 Please note:
For boots: calf circumference is same as knee or top girth in the size table
Lasting girth is the full circumference of your foot on the broadest part
Inner sole length in the table is the actual length of the sole which is always longer than your own foot length
UK/US sizes are guidance only - please choose based on EU size only - contact us when in doubt before ordering
We think it is important that reviews provide the best possible picture of our products and service. Our reviews are therefore, impartially, managed by ValuedShops (WebwinkelKeur). ValuedShops has taken measures to guarantee the authenticity of reviews.