Op dit moment bieden wij geen "op maat gemaakt" service voor de Giaro collectie. Ga naar onze Sanctum Shoes winkel om op maat gemaakte hakken te bestellen. 
Opmeten van je eigen schoenmaten
(tekst in Engels)
Measuring your foot and leg sizes
This page shows you how to take measurements for the exact size of your feet and legs for a proper fit or our shoes and boots.
This page is very handy to determine your regular EU sizing or as a preparation to order made-to-measure boots.
Feet & Legs
Size of your feet
There are two measurements to take: your feet and your legs. We first measure the length and width of your foot and then the size of your legs on 4 points. 
Please note: measure the length and width for both feet and legs!! Give us the measurements for both feet or for the highest values. 
Feet
How do you do it? Put your foot on a big size of paper. Draw the circumference of your foot with a thin pencil on the paper. Then put four lines on the paper like on the drawing below. Measure the distance between the lines. There you have the length (left picture) and the width (right picture below) of your foot. 
First: how to measure your foot length (A), foot girdth (B) and foot width (C). Put your foot on a piece of paper and draw a line around each foot. Measure the point below: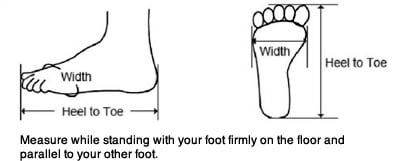 Please provide us with at least 3 measurements for the biggest foot: 
A: length [heel to toe]
B: width [around the broadest part of the foot]
C: width [width of broadest part of foot print] 
Please note: the width of the foot on our site is the "circumference" of the broadest part of the foot!!
Legs (for boots only)
Measure the circumference of your legs
Advice: do these measurements for both your legs!!
See the diagram below and take all measurements. There are 8 measurements to take!! Please note that the height is measured from the heel base for each measurement. You can take measurements in centimeters or inches.
Be precise and do not take your measurements too tight. Compare your measurements to the size tables of our boots on each product page.