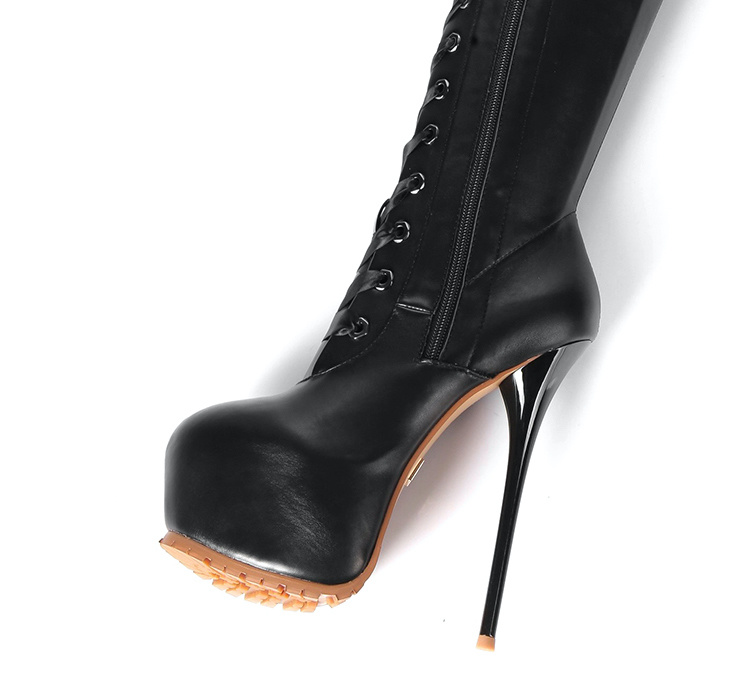 | To the generic Giaro sizes table | you are here: Valentino size table
VALENTINO models
(profile platform, 16cm heels, also in size 36)
The Valentino models are mostly true to size. You can choose your regular shoe size.
The Valentino pumps tend to be a bit narrow in the toe box. Choose one size bigger if you have broader feet (=feet width). The pumps are narrow on purpose to keep the pumps on your feet while walking.
The main difference with the other Giaro models is that the platforms are higher which makes these high heels more comfortable. The boots are a bit tighter on the top than the average Galana boots. 
VALENTINO
SIZE in CM

SIZE (EU)

 A 

Foot
length

 B 

Foot
girth


 C 

Heel
hight

 D 

Platform
height

 E 

Knee shaft
height

 F 

Top width
knee high

 G 

Overknee
shaft height

 H 

Thigh width

36
 
 
 
 
 
 
 
 
37
24,2
22,0
15,9
4,70
37,0
37,0
 (Luisa)
76,6 (Vida)
52,0
38
24,8
22,4
15,9
4,75
37,8
37,8
71,8(Luisa)
77,6 (Vida)
53,0
39
25,5
22,9
16,4
4,80
38,6
38,6
72,8(Luisa)
78,6(Vida)
54,0
40
26,1
23,4
16,4
4,85
39,2
39,4
73,8(Luisa)
79,6(Vida)
55,0
41
26,8
23,9
16,9
4,90
40,0
40,2
74,8(Luisa)
80,6(Vida)
56,0
42
27,5
24,3
16,9
4,95
40,8
41,0
75,8(Luisa)
81,6(Vida)
57,0
43
28,2
24,8
17,4
5,00
41,6
41,8
76,8(Luisa)
82,6(Vida)
58,0
44
28,8
25,3
17,4
5,05
42,2
42,6
77,8(Luisa)
83,6(Vida)
59,0
45
29,5
25,8
17,9
5,10
43,0
43,4
78,8(Luisa)
84,6(Vida)
60,0
46
30,2
26,2
17,9
5,15
43,8
44,2
79,8(Luisa)
85,6(Vida)
61,0
All sizes for Giaro High Heels are in women EU size. To determine the right shoe size for you, please measure your feet using the method described below. Measure your feet length and girth (width + circumference).
When you are still in doubt what size to choose, please contact us: [email protected]
Pieter [Article: VIDA RED SHINY - size 46 EU]

I have a size 45.5. I always wear a size 46 in all Giaro high heels. These VIDA boots are a bit different than other Giaro boots: the material is more stretch. The fit around the calf and thighs is really tight. I can close the boots but I can't wear a denim under it. I love to wear my boots over my jeans, but these boots need to be worn directly on the leg or with nylons. This gives a special feel like latex leggings.

The boots are a perfect fit in the foot. I even have some room to fiddle my toes and I can wear short socks in them. The boots are also very high. I have regular length legs and have 5 cm of open thigh left.

Great fetish boots for who loves tight fit and really crotch high boots. 

  
Measure your foot length and width
First: measure your foot length ( A , heel-to-toe) while standing. Then measure your foot girth ( B  width around broadest part of foot):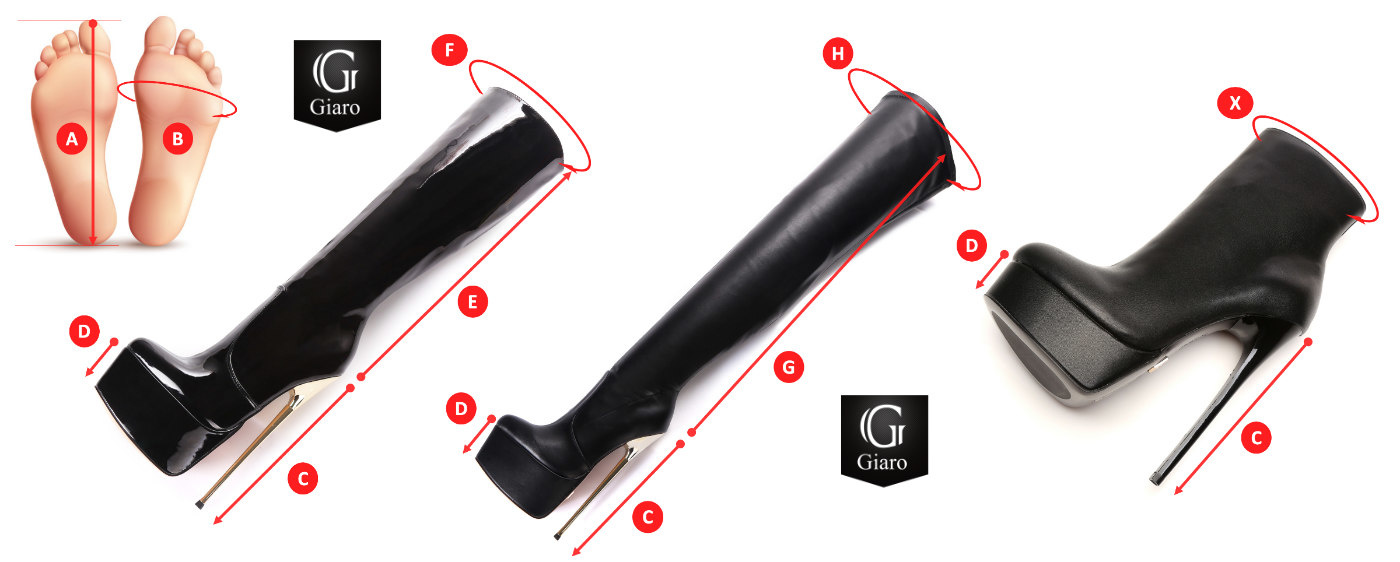 Then measure the other sizes ( C  to  H ) for your leg depending on the model you selected. Measure both legs and choose the highest values to get the right size. Measure around ankle ( X ) for ankle boots only.